hEY bOOs / DJs,
How to Register/Report to (STS) Spins Tracking System | Your Show &/or Station
"U R ONLY A PHONE CALL &/OR AN EMAIL AWAY...from being Registered"
I suggest emailing and calling to ensure you got front and back door covered...
Here's info from
(STS) Spins Tracking System
staff@spinstrackings
ystem.com
GETTING STARTED
Your first step. Your station must have an active user name / password to the

STS

(Spins Tracking System). Contact Backstage Entertainment now to obtain yours 310-325-9997.
Once you have an active user name, you'll be able access any or all of our charts in your genre (if you are interested in additional genres contact Backstage Entertainment. Your station will be able to report online using a user name/password established on your account. Personalizing your password is available to you under "Station Info". Your station will have one user name and password for all charts.

Once you have been approved as a reporting station you'll be able to login to

STS

(www.spinstrackingsystem.com) 24hrs/7 days a week to report your playlist.
----------------------------------------------------------------------------------------------
STEPS I TOOK TO REGISTER / DISCOVER HOW
:
(Since it was harder to register & get a Response)
Just in case you hit the same wall. REMEMBER they are very busy (but will respond). You just Follow up!
First EMAIL (#1 below) and request to register to report as a DJ, just your Show, and/or Station...
STATION DETAILS : (i.e. the following)
Call Letters / Signal
2. Raphael George, at Bill Board |
RGeorge@billboard.com
| (Adam Foster, referred him because my area did not have BDS monitoring site)
3. Paul, at (STS) Spins Tracking System (aka Backstage Entertainment) | 310.325.9997, Option #1 | he
is the person who called me and ask questions, then gave me approval to report and then emailed me my/Station's Password & Login details for STS
NO MO' EXCUSES REPORT DIRECTLY,
n MUCH 'FAVOR', INTEGRITY, WISdom, WEALTH & HEALed,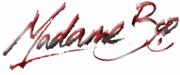 MA
DA
ME-Boo
aka eDDRA157-120
madameboo.blogspot.com | ChristianRhythmic.com | HigherGroundRecordPool.org
******************************************************************************************************
"A CHEERful Heart does Good like Medicine, because a BroKEn Spirit dRIES da bones...
and I DON't want your Bones to be DRY!!!" ;-))
******************************************************************************************************